Adventurer's Guild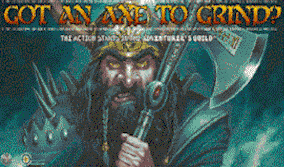 As the RPGA transitions into the new century, so too does the Adventurer's Guild Program. We have redesigned the program for maximum convenience and customization, utilizing feed back collected over the last year. Retailers will find the program easier to run in their stores, and players will find it easier to participate.
The essential element of the new Adventurer's Guild is a partnership between store and game master. When a store expresses interest, we will partner the store with a game master who can run the games. The game master will get the games through the tournament ordering system, and the store will receive the special prizes that retail play "winners" receive. The game master can run any number of games, in any game system that the RPGA has tournament adventures for. In addition, RPGA will be providing a premier adventure every month to be run in the store, complete with characters and everything you need to start playing roleplaying games.
In this new partnership, every partner receives rewards for running roleplaying games in stores, provided the games are open to everyone, and not just private games or slot zeroes run at the store. Only games open to the public qualify for the rewards below.
The store, for hosting the games, will receive a two-dollar credit towards the order of Wizards of the Coast products, up to a maximum of $200 per calendar year (100 games.) This credit will be redeemed through RPGA directly. While it is certainly possible to run more than 100 games in a year, we will have other rewards for those stores that do so.
The Game Master, for running the games in a game store rather than in a private setting, will receive a number of Service points applied to his RPGA Network ranking for each round. These points can be redeemed for products and special offers through the Network. After running and scoring the adventures, the GM will have the store owner sign the results sheet indicating that the games were played in the store. Upon return of this results sheet to Network HQ, both the Store and GM will receive their reward.
The players are included in our enlightened madness as well. RPGA will provide prize certificates to retail stores, to be given to "winners" of each table. The winner can be chosen in any way that the store desires, but we prefer that you reward good roleplaying or new participants. These certificates will be redeemable for RPGA special offers and in-game benefits.
So, you might ask, what's the catch? You have to run at least one table of the premier event in the store, during the month it is scheduled for, to get any of the rewards mentioned above. You can run any games in stores, but to get the extra rewards you have to include the premier adventure for the month as one of them.